On Thursday evening June 15, 2017 we gathered in the David Rubenstein Atrium at Lincoln Center for the Performing Arts to experience the legendary Colombian music group, Paito y Los Gaiteros de Punta Brava for their U.S. debut. Paito and his ensemble, one of the great exponents of traditional gaita (duct flute of indigenous origins) music from the mountains along Colombia's Atlantic coast, are also the last remaining legacy artists of the Afro-Colombian gaita negra tradition (musical repertoire that includes representative songs and combines flutes of pre-Hispanic origin with Afro-Colombian drums) still active today. The concert, part of a larger U.S. tour, developed out of a collaboration between one of Lincoln Center's Associate Producer's Viviana Benitez, and Colombian-based NGO, Sonidos Enraizados in an attempt better connect local and global sounds and understand the ever elusive relationship between sound, place, and sentiment.
Sonidos Enraizados enjoys a particularly close and long-standing relationship with Paito, as the organization specializes in working with locally celebrated musicians of genres present in remote regions of Colombia who are interested in and in need of support for, wider circulation without losing the aesthetic, style and context of their sounds and traditions. "The black gaitero's are a bit invisible with respect to 'official' Colombian history," notes musician and Sonidos Enraizados co-founder Urian Sarmiento, "Paito and his songs speak to and for this history in an organic and natural manner."
Our Los Herederos dream team (Diana Bejarano-Photography; Camilo Correa-Sound; Alejandro Navarro & Mauricio Bayona-Video) did a phenomenal job capturing the moment on stage and off through still photography, video and surround sound ambisonic audio that included coverage of the onstage program as well as individual interviews with artists and organizers during their time in New York City. When asked why Los Herederos conducts these special coverages of "Creative Masters in NYC," my answer is simple. If we didn't, they just wouldn't happen. Los Herederos engages in deep documentation for public consumption. This is different than what is covered routinely by press, individual's' social media on the fly, or the occasional ethnographic account in an academic publication. We pledge to support positive cultural trends by making the best possible graphic, written, video and audio representations available online. We do this, in order to document for public history, provide noteworthy commentary, and begin to demystify common misconceptions about the transmission and performance of tradition today. As Sarmiento notes, "histories that are perhaps not so truthful have be been officialized, but today we have more information and can bring to light additional stories that overturn certain pre-established theories."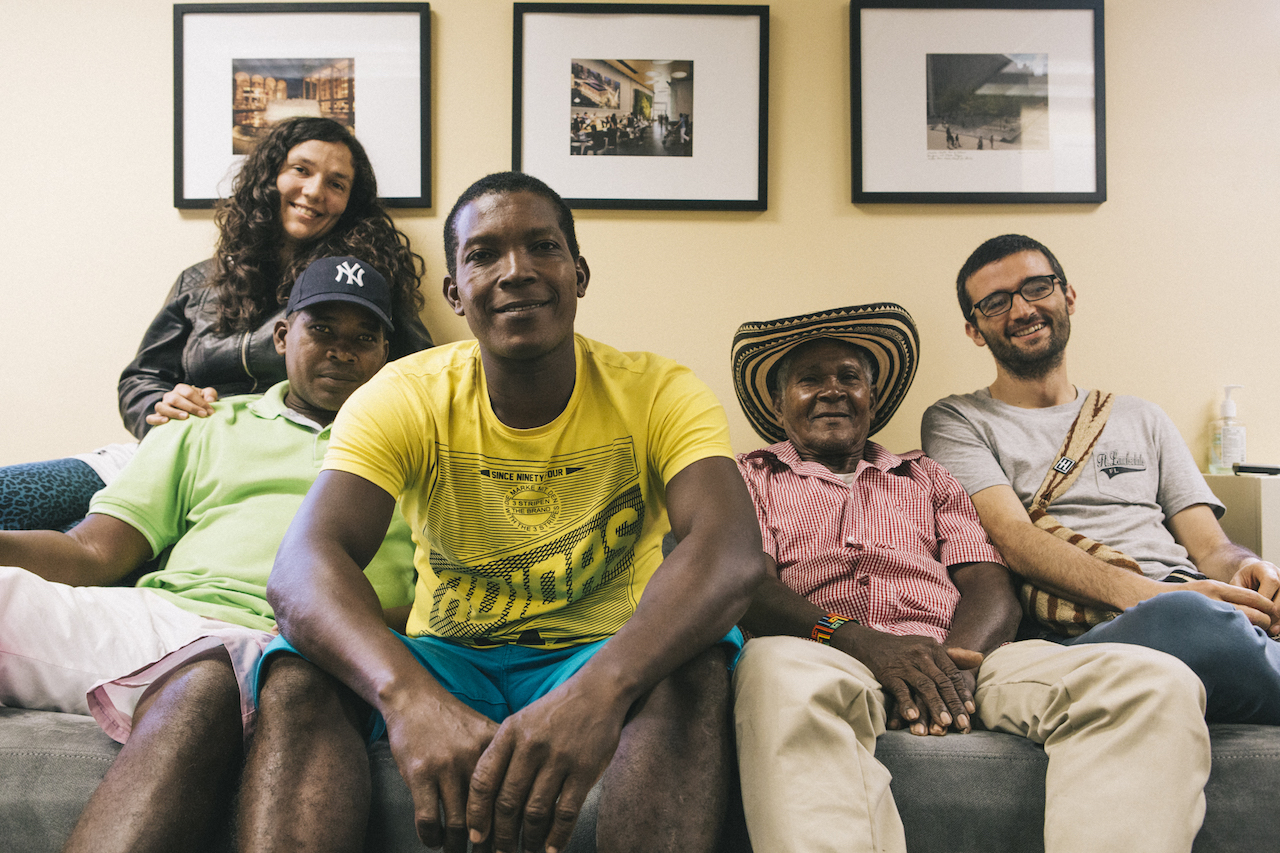 Indeed, something that the evening's performance inadvertently showcased and that sticks with me throughout each of my encounters with Paito, his band and Sonidos Enraizados co-founder Urian Sarmiento, is the unique relationship between Paito and Sarmiento. This is a relationship that defies stereotypes and power dynamics common between artist and student as well as artist and producer. Furthermore, it problematizes they way we assume race, class and kinship will play will play into these interactions.
"Paito" Sixto Silgado Martinez, gaitero (gaita player), was born in Flamenco, Maria La Baja, Bolívar, Colombia to a musical Afro-Colombian family specializing in the genres of bullerengue and gaita from the country's Atlantic Coast. He now makes his home in Isla Grande, Islas Rosario, Bolívar, Colombia and as Sarmiento often notes in his introductions of the maestro, "is a farmer first and a musician second." This statement is in no way intended to devalorize Paito's skill or legacy as a master artist, but rather to contextualize his work within the particular tradition, one which is inextricably linked to everyday agricultural, spiritual, and social life in Isla Grande. For Paito, music is literally inheritance. He grew up surrounded by its sounds and began playing gaita music at age 12, learning all that he knows from his father and uncles. In a recent radio interview with WFMU's Rob Weisberg, he describes composing his first song as "making it from his father." "My music is inheritance. I was born from music. It is my own, but it is also my heritage" he notes.
Histories that are perhaps not so truthful have be been officialized, but today we have more information and can bring to light additional stories that overturn certain pre-established theories

Urian Sarmiento
Paito met Sarmiento in his home city of Bogota, when he arrived to play several festivals back in 1999. At the time Sarmiento was playing with his acclaimed 'new-Colombian' music group Curupira and building his own knowledge as a fascinated newcomer to the gaita tradition. From an affluent urban background, Sarmiento was already an established musician (rock, jazz, alternative) in his own right, but like so many of his generational peers, had a burgeoning interest in the country's traditional music. Unlike the majority of his counterparts whose cursory exploration of these genres was primarily for professional gain and/or international export, Sarmiento had a deeper search. In an interview with Panorama (Colombian television channel), Sarmiento states with conviction that what he values most about his work as a musician and culture worker is "the opportunity to share and learn music from and with other people." "For me every encounter with every musician in every region is a testament to the impact of living memory, a great universe of understanding opens from a remote territory," and the world as you know it will never be the same again (Sarmiento quoted from the Centro Nacional de Memoria Histórica – Colombia).
Sarmiento's particular depth of character and musicianship was quickly apparent to Paito upon their first encounter. He notes that when he heard him play gaita "I heard something in him. He had a certain attitude about wanting to play, a level of deference and respect for the masters, that made me know that he had it!" The two became intimate friends, a relationship that has grown over the years to encompass aspects of family, friendship, teacher-student, and artist-producer.
Sarmiento joined Los Gaiteros de Punta Brava as a full fledged musician and presenter several years ago following one flute player's retreat due to religious issues. He says point blank that he would have preferred for the members of the group to remain 'in the family,' but this just was not possible. "On the one hand it's very traditional you know, the group how they operate. People have their music and their tradition, but they work in other things. They play when they are called for a particular purpose, but they aren't interested in being engaged in a process of continuous musical development and practice." This very phenomenon as it relates to folk and vernacular musics, combined with the pressures of an increasingly globalized world, makes it so that traditions easily fall by the wayside. This is how Sarmiento and many other non-native musicians end[ed] up in traditional ensembles all over the world. There comes a point when without their musical involvement a group would cease to function. As academics, field and culture workers we are socialized to question this type of activity from the outside, to deem it as less authentic or a breach of traditionality. However when faced with the prospect of a genre's continuity or lack there off, I suggest we consider the realities of such situations in our quest to better understand the dissemination and development of traditions and sounds.
My music is inheritance. I was born from music, it is my heritage

"Paito" Sixto Silgado Martinez
Paito is indeed Sarmiento's musical mentor, teacher and bandmate, however Sarmiento remains the principal interpreter of the tradition during their stage performances due to linguistic and communicative abilities. In fact, his talents in this area along with services provided by Sonidos Enraizados, have brought the group to larger audiences; case in point their Lincoln Center debut. This inevitably creates a certain power dynamic with respect to self-representation and social agility. It was particularly interesting to observe their recent appearance on WFMU's "Transpacific Sound Paradise," in which Sarmiento either spoke from his own experience or heavily translated for Paito, who despite his lack of English, appeared completely calm and engaged throughout. When asked about this, he replied with a twinkle in his eye, "I don't worry because I already know what Urian is saying even if I don't understand the words. My children are carrying on my legacy and that is why I have given them my knowledge." Paito considers Sarmiento a part of his family, a title which he tacitly accepts as evidenced in those moments when Paito wordlessly throws his flutes to the young man following a tiring set or gazes at him with tranquil admiration as Sarmiento presents on the gaita negra tradition in languages he cannot understand. Despite the level of interpretation it is clear from body language and interaction that Sarmiento remains a devoted steward of the tradition and its musical master.